By California Symphony staff—Tuesday, November 9, 2021
---
You had so many great questions and comments!
Here are a few things you may—or may not—have noticed as everything came together for FOUR SEASONS, the second concert set of the 2021-22 live and in-person California Symphony season.
Your number one question was… What's the thing that soloist Alexi Kenney kept tapping with his foot on onstage?
Theories ranged from volume controls to floor mics, but in fact it's a device that turns the page of his music, which he keeps in digital format the iPad he had propped up on his music stand.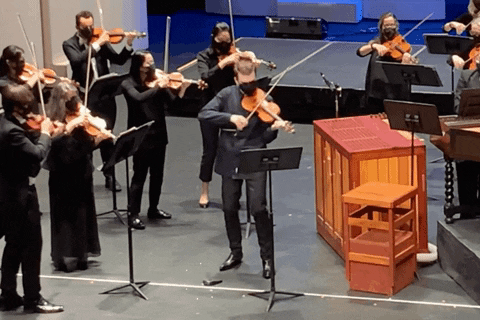 Is Concertmaster Jennifer Cho coming back?
YES! The wonderful Nigel Armstrong filled in for her this weekend but Jenny will be front and center stage as soloist for TAKE FLIGHT, January 29 and 30, 2022.
Tickets are $44-74 and $20 for students 25 and under, or you can get all three remaining concerts in the series—TAKE FLIGHT, FRENCH IMPRESSIONS and EPIC FINALE—for as low as $99.
We saw microphones… Will there be a recording?
We record concerts for our archives, and some of them appear later on radio broadcasts like California Symphony Broadcasts with Classical KDFC. This concert is not yet part of any broadcast plans, however you can listen to Alexi's electrifying debut performance with California Symphony of Bruch's Violin Concerto No 1, back in 2018, as part of the Pastoral Beethoven concert. Listen on demand at KDFC at this link.
Derek Tam, multi-talented, multi-keyboardist
Your eyes and ears did not deceive you. In addition to the harpsichord, Derek Tam played an organ, an instrument that was added to the concert after the program had gone to press. Both instruments are as easy on the eyes as they are on the ears…
You can read more about Derek here and hear how the harpsichord is still a hit in music outside of Renaissance era compositions.
And P.S., we think he should wear a cape like Rick Wakeman. After all, he was kind of a superhero in the concert.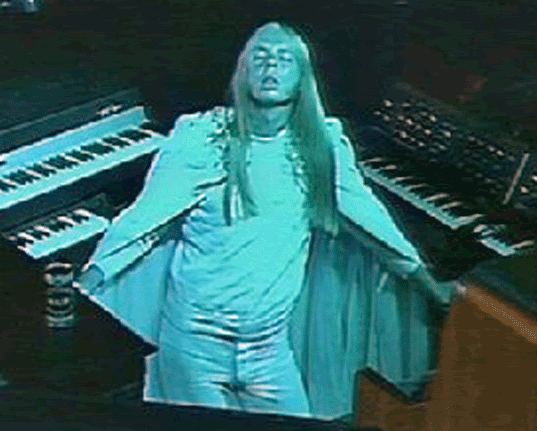 Internal Organs
Ever seen the guts of a continuo chamber organ? Or how it's tuned? (Who even knew it needed tuning?) Enquiring minds wanted to know, so we asked.
Forty-Niners Fan Backstage
What's a maestro to do when his team is playing—um, sorry, losing—on concert day?
Many a Slip
After the show on Saturday, Alexi told us that he regretted shaving right before the performance as it made his face quite slick, meaning his face mask was quite hard to secure in place.
And when you move around as much as Alexi does, you know that's got to be tough!
Speaking of Moves…
Did anyone else notice principal bassist Michel Taddei's hands a-blur during the depiction of the thunderstorm downpour in the summer movement of FOUR SEASONS?
We hope you're taking it easy today, Michel! #BeastMode
---
Matching Campaign Extended Through Wednesday, November 10
Thanks to the generosity of many donors, we're soooo close to the $100,000 fall matching target and unlocking another $100,000 in matching funds! (The total raised stands at 94% as of Tuesday morning.)
Give during the RESONATE fall matching campaign by Wednesday, November 10 and double your impact to support the orchestra and lift up our community through music education programs. Make your gift resonate now.
---
Colorful Staging Cues
In case you didn't spot it, there were subtle cues about which season you were listening to, based on the colors being projected on stage. The lighting was created using cyclorama units on the floor of the stage and the ceiling of the theatre. The units can be programmed to cast different colors, so the seasonal hues were made by blending the colors from the floor units and ceiling units.
Spring was pink/purple; green for summer; amber for autumn, and blue/white for winter.
And if you missed the sonnets that many think Vivaldi himself wrote to accompany the piece, you can read them here.
When to Applaud?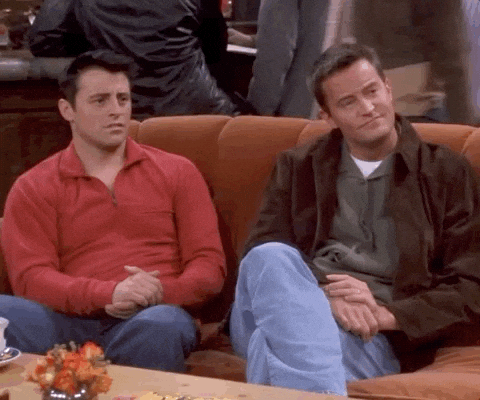 The question of when you should or shouldn't clap comes up from time to time. When we polled the musicians on this topic last year, 75% of those who expressed a preference said they enjoy hearing your heartfelt applause between movements.
Here's a piece Donato wrote for his other orchestra—the Las Vegas Philharmonic—that explains why we love to hear you clap when the spirit moves you!
Living it up in the Lobby
While ice cream remains on hold until the New Year, some patrons slid into the weekend's signature cocktail, which was an Apple Cinnamon Sangria.
Thanks to Barbara and Michael Andree and their magnificent costumes for lending a little olden-time, Renaissance-style flair to the photo booth.
How Do I Get Involved?
We love our California Symphony family of donors and patrons and we invite you to join us!
Please call the office at 925.280.2490 Ext 1, or email us at info@californiasymphony.org to learn more about any of these groups:
The

California Symphony Alliance

welcomes new members and volunteers to help with their fundraising events and music education work with local children.
The

Rossmoor California Symphony Society

presents five lectures per year—each one about 10 days before concert weekend—featuring Scott Foglesong, who is San Francisco Conservatory of Music Faculty Chair and California Symphony instructor and program notes annotator. Per Rossmoor bylaws, a limited number of non-residents can join.
The

National Charity League

provides volunteers—typically mother and daughter pairs—to help at events throughout the community, including at California Symphony concerts, where the take pictures at the photo booth and assist patrons with their digital program questions.
Pictures from this Weekend
And finally, a few snaps from concert weekend! Feel free to email us yours to add to the album at info@californiasymphony.org.
We hope to see you again for TAKE FLIGHT in the new year!
---
---